| | |
| --- | --- |
| Featured Item This Hour | Featured Downtown Chinatown Honolulu Master Pages |
BEAUTY - Beauty, Health and Wellness


Downtown - Chinatown, Honolulu Hawaii is also a great place to find solutions for your beauty, health and wellness needs. Cosmetics Spas, Hair Salons and Day Spas, Tanning Salon, Yoga and Pilates, Fitness Clubs, Foot Massage, Massage Services, Medical Clinics, Nail Salons.
More...
---
Next hourly featured item update scheduled at: 12/22/2014 - 1:25pm
30th Annual Honolulu City Lights - Opening Night At A Glance


Great family fun that includes, the all-new Enchanted Forest home for Santa in the Honolulu Hale Couryard along with a display of 24 Christmas trees decorated by City employees and a public wreath Contest exhibit in the Lane Gallery.
Hawaii Art Artist Newsletter - Plein Air Artist Mark N. Brown


This issue features art tip, special events, holiday offers, new art, photos and much more...
Hawaii State Foundation On Culture and The Arts DECEMBER 2014 Newsletter


There are articles on the Artist Kazu Kau'inana and the dedication of his new sculpture, 'Holomua,' at Kaua'i Community College; features on the "First Friday" event with Ruth Freedman on Friday, December 5th; the "Second Saturday" event "Happy Lauhala Holidays" on Saturday, December 13th; and the "Art Lunch" lecture "Artists of Hawai'i Film Screening" on Tuesday, December 30th.
Midas Hawaii Launches Super Website/Online Holiday Special - Oil Change for $24.99!!


EXPIRES 12/31/2014
- Buy oil change online in advance and get great discounts and offers from Midas Hawaii. Save BIG $$$.
Normally $49.99
Mayor's Office of Culture & the Arts Honolulu (MOCA) - DECEMBER 2014 Newsletter


The mission of MOCA is to promote the value of arts and culture throughout communities in the City and County of Honolulu. MOCA's objectives are to attain per-eminence in culture and the arts; to perpetuate the artistic and cultural heritages of its entire people; to promote a community environment, which provides equal and abundant opportunity for exposure to culture and the arts in all its forms; and to encourage and provide equal opportunity for the development of culture and the artistic talents of the people of Honolulu.
HAWAIIAN GOLD JEWELRY CHRISTMAS SALE - 35% OFF EVERYTHING!


This holiday season, Hawaii Gold Jewelry .com brings you great deals for
Christmas. 35% ENTIRE WEBSITE
, free shipping, extended return policy and more...
Profiles Of The Month - DECEMBER 2014


View profiles of the month and previous profiles of the month on First Friday Hawaii.Com.
Hound and Quail
Restaurant Epic
eleven44 Lounge and Nightclub Photo Gallery 1
Hawaii Artist Mark N. Brown
Chinatown Artists Lofts
Association of Hawaii Artists
---
FIRST FRIDAY DETAILS - JANUARY 2015 FIRST FRIDAY HONOLULU ART WALK - CALENDAR - 6pm - 9pm


FIRST FRIDAY DETAILS
<!#43START>
Monthly updates are finalized/published 2 days before each First Friday (8pm-11pm).
FOLLOW US TO GET NOTIFIED - Announcements goes out day before First Friday. - Email / Facebook / Twitter / Text
<!#43END>
12/5/2014 - Hawaii State Art Museum First Friday Featuring Harpist Ruth Freedman & Calligrapher Ms. Hosen Nakamura - Exhibit IMAGE & IMAGINATION - 6:00pm - 9:00pm


Our December 5, 2014 First Friday Performer is no stranger to the holiday season. The Hawai'i State Art Museum is pleased to welcome harpist Ruth Freedman from 6 - 9. As an added bonus, Ms. Hosen Nakamura, noted calligrapher from Japan, will be here for a calligraphy demonstration.
12/5/2014 - Hound and Quail - OUTPOST - Featuring Artist Patrick Ishihara - 5pm - 9pm


Vintage shop and gallery. Hound and Quail. Started in early 2011 by Mark Pei and Travis Flazer. We are the former owners of Area, a mid-century furniture shop in Honolulu's chinatown. H & Q is a place where we collect vintage and unusual items from Hawaii, the mainland, and around the world.
12/5/2014 - The Pegge Hopper Gallery - First Friday Dec 5 Book Signings At Pegge Hopper Gallery - 5pm - 9pm


The Pegge Hopper Gallery opened in 1983 and is located in historic Chinatown.
12/5/2014 - First Friday @ Ong King - Annual Ugly Christmas Sweater Party - 5pm-2AM


Ong King is a safe space to open up and create featuring artwork, classes, workshops,entertainment and more.
12/5/2014 - Louis Pohl Gallery - 5pm - 9pm


The collection of works displayed at the Louis Pohl Gallery is as diverse as it is dynamic due to the spectrum of art venues featured in the gallery due to a unique collaboration of its Resident Artists.
12/5/2014 - Bar 35 - First Friday! - 9-2PM


Exclusive, stylish and sexy, BAR 35 is host to the most discriminating drinker. Over 100 beers from around the world. Open 4pm-2am. Happy hour deals from 4-8pm. DJs Rhombus, KSM and Anarch. Cover after 9pm.
12/5/2014 - Roberta Oaks - 5pm - 9pm


Dedicated to supporting ethical practices and a sustainable economy and planet, Roberta Oaks, Hawaii is a brand with conscience. Eco-fabrics like bamboo jersey and organic cotton are mixed with boldprints in funky colors.
First Friday News


Keep up with the latest news from the First Friday community - special events, calendars, Downtown/Chinatown news, art news and much more!
---
Hawaiian Gold Jewelry Catalog Photo Gallery


NEW CATALOG PHOTO GALLERY
- Hawaii Gold Jewelry .Com is full service online jewelry website offering Hawaiian Heirloom jewelry. Our mission is to provide quality Hawaiian jewelry products and services and practice integrity in all that we do. Over 900+ high quality Hawaiian 14K Solid Gold Jewelry items (made in Hawaii) are featured on our website.
Eleven44 Nightclub And Lounge Video!


eleven44, Honolulu's newest nightclub and lounge, is pleased to present some of HonoluluÕs favorite DJs, Thursday through Saturday.
MBC Launches Free Hawaii Real Estate Video Production Services


We offer
Free and low cost Real Estate Video Production Services
for licensed Hawaii Real Estate companies and agents.
MBC has invented technology that automates the process of creating videos of Hawaii real estate properties for sale. After the video is created, it is then posted on YouTube for easy viewing.
MacBusiness Consulting / Ernest Abrams - Launches New FREE community Website KAKAAKOHAWAII.COM


New free community website by Ernest Abrams/MacBusiness Consulting. Owner of FirstFridayHawaii.com, KaimukiHawaii.com, aikikiGetDown.com View Kakaako featured events, news, businesses and primary links .
Launched 7/28/14
2500+ web pages
1500+ businesses
60+ maps and guides
If you know someone who owns a business/non-profit, etc in Kakaako.. tell them to contact Ernest Abrams at 808-739-9797 for free profiles/promotion of their business.
Mark N. Brown Launches New Chinatown Art Collection Featuring Art Scenes From Chinatown - Honolulu, Hawaii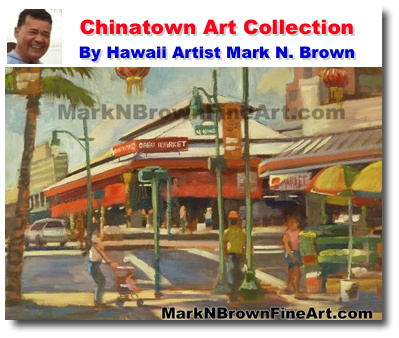 Here you can see all of Mark N. Brown's artwork featuring scenes from the Chinatown area in Honolulu, Hawaii.
Map of First Friday Art Walk Event Calendar - DECEMBER 5th, 2014


(last update: 12/4/2014 Interactive map of event calendar.
---
First Friday Featured Pages


Artist, galleries, maps, parking, shopping, restaurants and much more.
More...
---
Honolulu Real Estate New Listings and Updates - Updated Every Hour


SPONSOR
- Honolulu real estate expert, Keahi Pelayo, offers FREE online hourly updates on home and condo property listings that can really help you
buy Honolulu real estate at a lower price
. Premiere resource for buying and selling Honolulu real estate - Honolulu - Oahu - Hawaii.
---
Transportation - Car - Bus - Taxi Cab to First Friday


Great resources to get to First Friday Hawaii Art Walk via bus, car, taxi
More...
---
First Friday Text Message Alert (SMS) Subscription


Get on our occasional Text Alert (SMS Text Message) list.
We're 100% spam-proof.
Opportunities to
SIGNIFICANTLY
benefit you!
Event VIP access
, free offers, discounts and more.
More...
---
First Friday Honolulu #3 Photo Gallery


Great photos of First Friday Honolulu August 2011.
---
MacBusiness Consulting / Ernest Abrams - Database, Website, Advertising Testimonials


See what our satisfied customers are sayings about MacBusiness Consulting/Ernest Abrams's database, website and advertising solutions. Our most recent testimonial comes from
2014 Small Business Person Of The Year awarded by Hawaii Business Magazine
.If you are looking for new website/database solution and/or would like to advertise to the local Hawaii community, feel free reply to this email or call me at 808-739-9797.
97 Downtown - Chinatown Condos for Sale Map and Listings - 96813 Zip code - Honolulu Real Estate - Updated 12/20/2014


Downtown / Chinatown condos for sale. View interactive geographical map of condos for sale in Downtown / Chinatown - Honolulu, Hawaii. Photos, description, and much more.
View more First Friday Art Walk events...