| | |
| --- | --- |
| Featured Item This Hour | First Friday News - Friday, 1/30/2015 |
Eleven44 Nightclub And Lounge Video!


eleven44, Honolulu's newest nightclub and lounge, is pleased to present some of Honolulu's favorite DJs, Thursday through Saturday.
Next hourly featured item update scheduled at: 1/30/2015 - 8:51am
Hawaii State Foundation On Culture and The Arts JANUARY 2015 Newsletter


There are articles on Calligrapher Hosen Nakamura's HiSAM visit; features on the "First Friday" event with Guitarist Shoji Ledward on Friday, January 2nd; the "Second Saturday" event "Pop-Up Art!" on Saturday, January 10th; and the "Art Lunch" lecture "The Art of Listening" with Lynn Young on Tuesday, January 27th.
Mayor's Office Of Culture & The Arts Honolulu (MOCA) Newsletters


The mission of MOCA is to promote the value of arts and culture throughout communities in the City and County of Honolulu. MOCA's objectives are to attain per-eminence in culture and the arts; to perpetuate the artistic and cultural heritages of its entire people; to promote a community environment, which provides equal and abundant opportunity for exposure to culture and the arts in all its forms; and to encourage and provide equal opportunity for the development of culture and the artistic talents of the people of Honolulu.
FIRST FRIDAY DETAILS - FEBRUARY 2015 FIRST FRIDAY HONOLULU ART WALK - CALENDAR - 6pm - 9pm


FIRST FRIDAY DETAILS
<!#43START>
Monthly updates are finalized/published 2 days before each First Friday (8pm-11pm).
FOLLOW US TO GET NOTIFIED - Announcements goes out day before First Friday. - Email / Facebook / Twitter / Text
<!#43END>
Profiles Of The Month - JANUARY 2015


View profiles of the month and previous profiles of the month on First Friday Hawaii.Com.
Owens & Co.
Patrick Ching - Naturally Hawaiian Gallery
Pastel Artists of Hawaii
Dancers Unlimited
Colleen Wilcox Art
Roberta Oaks, Hawaii
Hanks Cafe Honolulu
---
Latest Hawaii Art News from Plein Air Artist Mark N. Brown


See what Hawaii's premier plein air artist is up to.
Multiple new "Miniature" originals, November/December Paint Out Photo Gallery, Punahou School Paint Out Photos, new collections and much more.
ARTS at Marks - THE BODY FARM One Body, Two Artists, Two Visions. Exhibit by Kris Goto and Eric West


A collection of works by Kris Goto and Eric West that explores how two artists translate the human form into paintings.
First Friday Featured Pages


Artist, galleries, maps, parking, shopping, restaurants and much more.
More...
---
Eleven44 Nightclub And Lounge Video!


eleven44, Honolulu's newest nightclub and lounge, is pleased to present some of Honolulu's favorite DJs, Thursday through Saturday.
1/2/2015 - Hawaii State Art Museum First Friday Featuring Guitarist Shoji Ledward - 6:00pm - 9:00pm


Join guitarist Shoji Ledward as he helps usher in the new year with audience favorites from his far-ranging repertoire of standards, show tunes and jazz from the 1930s to the present.
First Friday News


Keep up with the latest news from the First Friday community - special events, calendars, Downtown/Chinatown news, art news and much more!
---
1/2/2015 - First Friday @ Ong King - Let them Eat Cake Couture! January 2nd 2015 - 5pm-2AM


Ong King is a safe space to open up and create featuring artwork, classes, workshops,entertainment and more.
IMPORTANT - Important First Friday Pedestrian Safety Alert


**Important First Friday Pedestrian Safety Alert**
- Starting January 2015 Hotel Street Open for Vehicular Traffic During First Friday Pedestrian Caution Urged
1/2/2015 - eleven44 Lounge and Nightclub - Foundation First Friday, eleven44 and Hotel Renew by Aston Present DJ Marc Marzenit - 7pm - 2am


Be part of the first-ever First Friday event for eleven44, Honolulu's new, fresh nightclub. See how the renovations have converted this once casual space into a dynamic, upscale nightclub. And be sure to check out some of Honolulu's favorite DJs: Timo 7-9, Mr. Nick and Matt Kee. VSP Bottle Service available. Dress to impress. 21+. No cover. 7pm to 2am.
1/2/2015 - The ARTS at Marks Garage First Friday - 6-10pm


The ARTS at Marks Gallery will be open from 6-10pm. Hawaii Glass Artists exhibit still on display with artwork for sale. Music by DJ Rhombus.
1/2/2015 - Downbeat Diner and Lounge - First Friday - 5-2am


American diner food favorites with vegetarian options on everything. Come on down to the Downbeat Lounge this First Friday. Located right next door to Chinatown's favorite little Diner. Joe Agogo of Jet Setter Productions proudly presents Club Underground with DJ Ross Jackson, DJ TIMO and DJ Monkey spinning on the decks.
1/2/2015 - Hound and Quail - OUTPOST - 5pm - 9pm


Vintage shop and gallery. Hound and Quail. Started in early 2011 by Mark Pei and Travis Flazer. We are the former owners of Area, a mid-century furniture shop in Honolulu's chinatown. H & Q is a place where we collect vintage and unusual items from Hawaii, the mainland, and around the world.
Hawaiian Gold Jewelry Catalog Photo Gallery


NEW CATALOG PHOTO GALLERY
- Hawaii Gold Jewelry .Com is full service online jewelry website offering Hawaiian Heirloom jewelry. Our mission is to provide quality Hawaiian jewelry products and services and practice integrity in all that we do. Over 900+ high quality Hawaiian 14K Solid Gold Jewelry items (made in Hawaii) are featured on our website.
MacBusiness Consulting / Ernest Abrams - Launches New FREE community Website KAKAAKOHAWAII.COM


New free community website by Ernest Abrams/MacBusiness Consulting. Owner of FirstFridayHawaii.com, KaimukiHawaii.com, aikikiGetDown.com View Kakaako featured events, news, businesses and primary links .
Launched 7/28/14
2500+ web pages
1500+ businesses
60+ maps and guides
If you know someone who owns a business/non-profit, etc in Kakaako.. tell them to contact Ernest Abrams at 808-739-9797 for free profiles/promotion of their business.
Mark N. Brown Launches New Chinatown Art Collection Featuring Art Scenes From Chinatown - Honolulu, Hawaii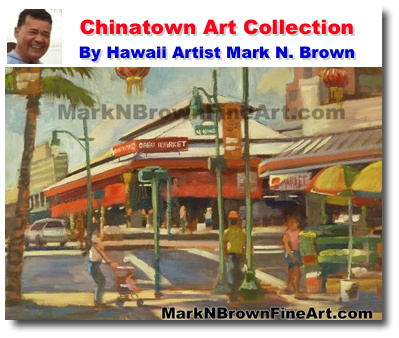 Here you can see all of Mark N. Brown's artwork featuring scenes from the Chinatown area in Honolulu, Hawaii.
1/2/2015 - Red Door Artz Studios and Gallery - 5:00 pm - 9pm


4 artists, 4 studios, 1 gallery. Shyrl Matias, Carol Moore, Stacy Cheng-Suzuki, and Patty Lentz.
Map of First Friday Art Walk Event Calendar - JANUARY 2nd, 2015


(last update: 1/1/2015 Interactive map of event calendar.
---
Honolulu Real Estate New Listings and Updates - Updated Every Hour


SPONSOR
- Honolulu real estate expert, Keahi Pelayo, offers FREE online hourly updates on home and condo property listings that can really help you
buy Honolulu real estate at a lower price
. Premiere resource for buying and selling Honolulu real estate - Honolulu - Oahu - Hawaii.
---
Transportation - Car - Bus - Taxi Cab to First Friday


Great resources to get to First Friday Hawaii Art Walk via bus, car, taxi
More...
---
First Friday Honolulu #3 Photo Gallery


Great photos of First Friday Honolulu August 2011.
---
100 Downtown - Chinatown Condos for Sale Map and Listings - 96813 Zip code - Honolulu Real Estate - Updated 1/27/2015


Downtown / Chinatown condos for sale. View interactive geographical map of condos for sale in Downtown / Chinatown - Honolulu, Hawaii. Photos, description, and much more.
View more First Friday Art Walk events...