| | |
| --- | --- |
| Featured Item This Hour | First Friday News - Saturday, 5/30/2015 |
Enhance your First Friday Experience with our FirstFridayHawaii.com Maps


Whether you're trying to find the best parking locations or where certain art galleries and bars are located, our Interactive Maps are designed to be helpful tools to help you have the best First Friday Hawaii experience!
Next hourly featured item update scheduled at: 5/30/2015 - 6:28am
FIRST FRIDAY DETAILS - JUNE HONOLULU ART WALK - CALENDAR - 6pm - 9pm


FIRST FRIDAY DETAILS
<!#43START>
Monthly updates are finalized/published 2 days before each First Friday (8pm-11pm).
FOLLOW US TO GET NOTIFIED - Announcements goes out day before First Friday. - Email / Facebook / Twitter / Text
<!#43END>
Hawaii State Foundation On Culture and The Arts MAY 2015 Newsletter


There are articles on the Public Art Archive; features on the "First Friday" event with the Bobby Ingano Trio on Friday, May 1; the "Second Saturday" event "Hawai'i Landscapes" on Saturday, May 9th; and the "Art Lunch" lecture "Weaving Silver and Gold, Lauhala-Style" with Donna Cockett on Tuesday, May 26th.
Downbeat Diner and Lounge Present... COMING MAY 2015 EVENTS & PROMO FLYERS


View flyers of coming events at Downbeat Diner and Lounge
Advertise To The First Friday Art Walk Community - Honolulu Hawaii Community Marketing Tip - FirstFridayHawaii.com


Learn how to better connect with the First Friday - Honolulu, Hawaii community! All to often we see businesses spending thousands of dollars annually on advertising and not spending a penny to reach their immediate local/neighborhood market which we consider to be the best prospects for new/repeat business.
Pacific Gateway Center Joins Hawaii Deferred Action For Childhood Arrivals (DACA) Program.


Pacific Gateway Center is proud to be a community partner in the Dream Fund to provide opportunities to youth immigrants. The goal of the program is to increase the number of undocumented immigrants applying for DACA status, allowing them opportunities to work, attend school, and contribute to their families and communities within the program's two-year window for deportation deferment.
Mayor's Office Of Culture & The Arts Honolulu (MOCA) Newsletters MAY 2015


The mission of MOCA is to promote the value of arts and culture throughout communities in the City and County of Honolulu. MOCA's objectives are to attain per-eminence in culture and the arts; to perpetuate the artistic and cultural heritages of its entire people; to promote a community environment, which provides equal and abundant opportunity for exposure to culture and the arts in all its forms; and to encourage and provide equal opportunity for the development of culture and the artistic talents of the people of Honolulu.
Profiles Of The Month - MAY 2015


View profiles of the month and previous profiles of the month on First Friday Hawaii.Com.
Soul De Cuba Cafe Food Photo Gallery
Louis Pohl Gallery
Anthony Randall
HASR Wine
Pacific Gateway Center
Loading Zone Arts
---
First Friday News


Keep up with the latest news from the First Friday community - special events, calendars, Downtown/Chinatown news, art news and much more!
---
5/1/2015 - First Friday @ Ong King - Get Lost In The Neon Galaxy - 5pm-2AM


Ong King is a safe space to open up and create featuring artwork, classes, workshops,entertainment and more.
5/1/2015 - Hawaii State Art Museum First Friday: Featuring Bobby Ingano Trio & NEW EXHIBIT - VOYAGING: THE ART OF WAYFINDING - 6:00pm - 9:00pm


The group is comprised of Bobby Ingano on the Hawaiian Steel Guitar, Keawe­ Aiko on the upright bass and vocals and Kaipo Ah Sing playing various instruments and vocals.
NEW EXHIBIT
- Voyaging: The Art of Wayfinding is a new exhibition opening on May 1, 2015. The exhibit will feature a selection of maritime art from the Art in Public Places Collection of the Hawai`i State Foundation on Culture and the Arts, including work by Herbert "Herb" Kawainui K ne, co-founder of the Polynesian Voyaging Society.
5/1/2015 - Owens & Co.


10% OFF SPECIAL!
Owens & Co. is a unique boutique located in the Chinatown Arts district of Honolulu. Owens & Co. offers a fantastic collection of home accessories, gifts, as well as vintage items. Please stop by to check out the shop.
Hawaii Artist Patrick Ching Latest Newsletter - SPRING 2015


Art tips, favorite photos, KAI Ocean Art Show (KAUAI / WAIKIKI), new images, new Oahu Mural installation, gallery updates, Kauai Artist Studio Tour, class schedule and much more.
Art at the Capitol 2015 Video Introductions


"Art at the Capitol" Videos. Learn about Art displayed in the offices our state lawmakers and in the executive offices.
5/1/2015 - Chinatown Improvement District - Lei Day In Chinatown Celebration & An Art &Amp; Treasures Fair - see notes


Lei Day in Chinatown celebration on May 1st @ 25 N Hotel Street, from 5:30 - 8:30 p.m (this is a free event). We hope you will join us! Several photos will be available for viewing at various businesses and galleries in the district. An Art & Treasures Fair will also be held at 25 N. Hotel on May 1st during the day from 10:30 a.m. - 2:30 p.m. and from 5:00 p.m. - 9:00 p.m.
5/1/2015 - Downbeat Diner and Lounge - First Friday - 5-2am


American diner food favorites with vegetarian options on everything. Come on down to the Downbeat Lounge this First Friday. Located right next door to Chinatown's favorite little Diner. Joe Agogo of Jet Setter Productions proudly presents Club Underground with DJ Ross Jackson, DJ TIMO and DJ Monkey spinning on the decks.
5/1/2015 - eleven44 Lounge and Nightclub - Foundation First Friday - 4pm - 2am


Be part of the first-ever First Friday event for eleven44, Honolulu's new, fresh nightclub. See how the renovations have converted this once casual space into a dynamic, upscale nightclub. And be sure to check out some of Honolulu's favorite DJs: Happy hour from 4-7PM. It's Foundation First Friday with Honolulu's favorite House DJs, including Ramit, Jimmy Lee, Loic, and others. $5 cover after 9PM.
5/1/2015 - Hound and Quail - OUTPOST - CURRENT SHOW - "unseen unknown" - 5pm - 9pm


Vintage shop and gallery. Hound and Quail. Started in early 2011 by Mark Pei and Travis Flazer. We are the former owners of Area, a mid-century furniture shop in Honolulu's chinatown. H & Q is a place where we collect vintage and unusual items from Hawaii, the mainland, and around the world.
5/1/2015 - Louis Pohl Gallery - 5pm - 9pm


The Louis Pohl Gallery is dedicated to featuring Hawaii artists whose works reflect the standards of excellence, creativity, and inventive spirit for which its namesake was known during his lifetime.
5/1/2015 - Next Door First Friday - 6pm-2am


Next Door Chinatown's Concert Hall & Cinema Lounge. Music Next Door is a multi-media space offering film, music and art. We kick off the night early at 5pm with a positive slew of talented artists selling their exclusive wares at special discounted prices!
5/1/2015 - Red Door Artz Studios and Gallery - 5:00 pm - 9pm


4 artists, 4 studios, 1 gallery. Shyrl Matias, Carol Moore, Stacy Cheng-Suzuki, and Patty Lentz.
Map of First Friday Art Walk Event Calendar - May 1st, 2015


(last update: 4/30/2015 Interactive map of event calendar.
---
Kuana Torres Kahele Hits The Billboard Charts, Again!


Kuana Torres Kahele's Music of the Hawaiian Islands Vol.1 Hawaii Keawe hit #8 on the Billboard World Chart this week and Volume 2, Kahelelani Ni'ihau hit #5! Click on link to learn more and buy today!
IMPORTANT - Important First Friday Pedestrian Safety Alert


**Important First Friday Pedestrian Safety Alert**
- Starting January 2015 Hotel Street Open for Vehicular Traffic During First Friday Pedestrian Caution Urged
Latest Hawaii Art News from Plein Air Artist Mark N. Brown


See what Hawaii's premier plein air artist is up to.
Multiple new "Miniature" originals, November/December Paint Out Photo Gallery, Punahou School Paint Out Photos, new collections and much more.
First Friday Featured Pages


Artist, galleries, maps, parking, shopping, restaurants and much more.
More...
---
Eleven44 Nightclub And Lounge Video!


eleven44, Honolulu's newest nightclub and lounge, is pleased to present some of Honolulu's favorite DJs, Thursday through Saturday.
MacBusiness Consulting / Ernest Abrams - Launches New FREE community Website KAKAAKOHAWAII.COM


New free community website by Ernest Abrams/MacBusiness Consulting. Owner of FirstFridayHawaii.com, KaimukiHawaii.com, aikikiGetDown.com View Kakaako featured events, news, businesses and primary links .
Launched 7/28/14
2500+ web pages
1500+ businesses
60+ maps and guides
If you know someone who owns a business/non-profit, etc in Kakaako.. tell them to contact Ernest Abrams at 808-739-9797 for free profiles/promotion of their business.
Mark N. Brown Launches New Chinatown Art Collection Featuring Art Scenes From Chinatown - Honolulu, Hawaii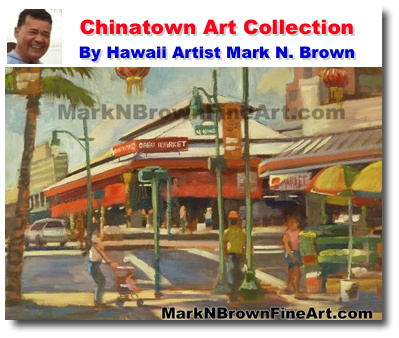 Here you can see all of Mark N. Brown's artwork featuring scenes from the Chinatown area in Honolulu, Hawaii.
Honolulu Real Estate New Listings and Updates - Updated Every Hour


SPONSOR
- Honolulu real estate expert, Keahi Pelayo, offers FREE online hourly updates on home and condo property listings that can really help you
buy Honolulu real estate at a lower price
. Premiere resource for buying and selling Honolulu real estate - Honolulu - Oahu - Hawaii.
---
First Friday Honolulu #3 Photo Gallery


Great photos of First Friday Honolulu August 2011.
---
138 Downtown - Chinatown Condos for Sale Map and Listings - 96813 Zip code - Honolulu Real Estate - Updated 5/23/2015


Downtown / Chinatown condos for sale. View interactive geographical map of condos for sale in Downtown / Chinatown - Honolulu, Hawaii. Photos, description, and much more.
View more First Friday Art Walk events...